A NEW CHURCH EXPERIENCE
ICF is a modern and innovative church. 
Authentic, relevant and excited about life with God.
English Translation
We are happy that we finally can provide live translations into English. Right now, we provide an English translation service for the 12 a.m. Celebration. Besides the translations, we also have a dedicated Telegram channel for our international community so that you can receive all news and updates in your favorite language. 
More Info
VISIT OUR COMING HOME COURSE
The Coming Home Course (4 videos series) is the best possibility to get to know us better and to connect with ICF Hamburg. 
Our goal is that every person that joined the course will be able to know what God wants to do with their life and what their part can be in the ICF Hamburg church. Please embrace this great opportunity if you would like to know our church and the identity of the ICF better! 
| Date | Preacher | Subject |
| --- | --- | --- |
| 3. December 2023 | Jana Highholder | Open Topic |
Open Topic


The current sermon series
Celebration Podcasts
You missed a celebration? No problem! Past ICF Hamburg celebrations and sermons are available as video and audio podcasts. You can listen to them or watch them from home or on the go. The podcasts are available under YouTube, Spotify, Apple, and Google Podcasts. So just select your favorite platform and start to listen! 
PODCASTS
NEWS, NEWS, NEWS
There are many ways to stay connected with ICF Hamburg and to stay informed about upcoming events, courses, and activities. Just connect with us using Telegram, subscribe to the newsletter, or check out our church news page. 
Get involved
Become a part of the family
You are welcome here. It does not matter where you are from, how you look like or what your story is – you are really welcome! 
Small groups
Small groups meet regularly during the week. We build friendships and share life and thoughts. Come in and become a part of the family.
Teams
We think that volunteering in the church is one of the best things you can do with your life.
Make a difference and become part of a team!
Prayer Sessions
Church means building friendships and praying together. If you have a desire to praying with other people, then feel free to join our early prayer meetings and parental prayer meetings.
Prayer Exchange
NEED PRAYER?
Share your paryer request, so that we can pray for you!
PRAY FOR OTHERS!
Support other people by praying for their prayer requests.
We know: JESUS IS ABLE
Donate
Our church is not built on the talents of a few people. Instead, it is built on the generosity of many people.
With your giving, you can support the dream of building a strong and creative church in Hamburg.
ICF College
If you want to deepen your bible knowledge and want to start the next step, then we recommend the ICF college – bible track. Together we study the bible actively and discuss important questions.
Explore
Discover church. Experience God. 
Curiosity. Meaning. Just starting. 
That is EXPLORE!
We stop asking "What if?" and just start the journey! What if God is real? What if prayer really works? When relationships really can be deep and healing?
Start a new adventure and experience what church and believing in God really means!
We are looking forward to starting a new journey with you.
More Info
1. AUTHENTIC
We walk our talk
2. RELEVANT
We are at the heartbeat of time
3. EXCELLENT
We give our very best for God
4. HOSPITABLE
We create a loving "Welcome Home" atmosphere
5. EXCITED
We know that the joy of the Lord is our strength
6. GENEROUS
We are blessed to be a blessing
Our story
Part of a global movement.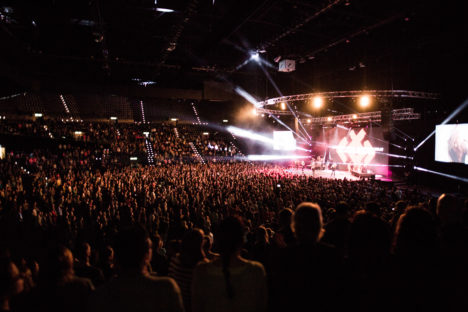 ICF Hamburg is an ICF church and part of the global ICF Movement. ICF stands for "International Christian Fellowship". We are a christian church, at the heartbeat of time, creative, innovative and sometimes also a bit crazy! The dream that started in 1996 and was founded by Leo Bigger and Susanna Bigger still excites us in the same way as in the beginning. At the core of all activities is Jesus Christ and his kingdom. 
You can find here more about the history, the vision, and values of the ICF movement. 
ICF Movement
Together for Hamburg
Founded by the Evangelischen Allianz Hamburg
ICF Hamburg is part of "Gemeinsam für Hamburg" (Together for Hamburg) – a network of christians from different confessions and denominations. In the tradition of the Lausanner agreement from 1974, we want to contribute with words and actions to the goals that more people can get to faith in Jesus Christ. In the end, we want to seek the best for the city of Hamburg. According to Jesus words, we expect that unity of christians is one of the crucial success factors of Evangelization.