18 – 19 December


Christmas Experience
The unique Christmas show
ICF Church with 30 performers and a live band invites you to experience this moving yet humorous Christmas show on-site or online.
Watch on YouTube
Joseph is nervous. He wants to ask Maria to marry him. His enchanting marriage proposal is impressive and the two of them are on cloud nine after Maria's yes. The two make big plans for their future. But then Maria becomes pregnant unintentionally. In a moment, their plans for a future lose all value.
The unique Christmas Experience online:
Sunday 19th of December 2021, 9:30 / 11:30 / 19:00
In High German only

Live stream
Immerse yourself in the Christmas story and experience Christmas right in your living room. Spend an evening with friends, your Small Group, or family and experience how the birth of God's Son changed everything.
Watch the replay
The unique Christmas Experience on site:
Saturday 18th of December 2021, 4pm / 8pm
Sunday 19th of December 2021, 11:30am K,E,P / 3pm K,E  / 7pm 
Show in High German, translation available where indicated
Sunday 19th of December at 5 pm the English Celebration will take place in the Club.

K: special Kids program (0-7)
The Christmas Experience is suitable for children aged 8 and over.
E: English translation
P: Tradução português
FREE Admission (donations appreciated)
Tickets on-site
You can drop by spontaneously without registration and ticket, and get a ticket on-site. Your seat will be assigned to you so that you still have the opportunity to visit the Christmas market. In the auditorium, you can experience the Christmas Experiences with a valid certificate. If you wish, you can reserve a fixed seat in advance for a fee. We also offer a test center on-site where you can be tested after registration. Other settings can be attended without a certificate where a live stream of the experience is shown. For the Balcony setting in the auditorium (also without certificate), tickets must be purchased in advance.
Reserve your seat (optional)
Arrival
Arrival by public transport is recommended.
The number of parking spaces is limited.
The Hall, Hoffnigstrasse 1, 8600 Dübendorf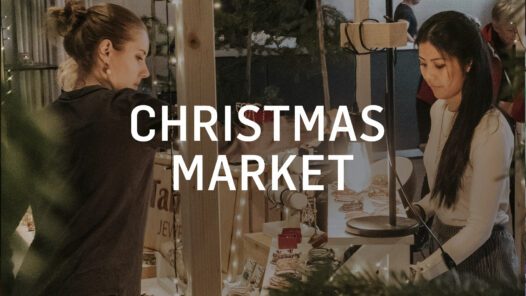 Christmas market
As in previous years, there will be a Christmas market during the Christmas Experience.
This will take place in front of the Stettbacher Café and invites you to linger with its stalls and offers.
More about the market
FURTHER HIGHLIGHTS IN DECEMBER
Weekly church services
Our Highlight every Sunday are the Celebrations – our weekly church services. And we want them to be something different: loud, joyful and passionate and, of course, Christmassy during Advent. Both online and on site.
Story of Christmas – Your Video Advent Calendar (IN GERMAN)
Welcoming, authentic and practical. With Leo and Susanna Bigger from the "Grand Tour of Switzerland".