YOUR CHRISTMAS SEASON AT ICF
The reflective season of Advent opens the door to a story that engages us all. It tells of God's boundless love, the trust that carries us through challenges, and the radiant hope that shines in the coming of Jesus.
Look forward to the Prayer Advent Calendar, where you can experience Advent in your living room together with Leo and Susanna Bigger. Christmas spirit awaits you at our on site and once weekly celebrations – from the touching and contemplative Candlelight Celebration to the unique Christmas Experience – you, your friends, and family are welcome!
OUR OFFERS THIS CHRISTMAS SEASON
The unique Christmas show
Your Video Advent Calendar
a place in a warm family atmosphere
Young Adults & Youth Conference
09 – 10 December

Christmas Experience
The unique Christmas show
ICF Zurich invites you to experience this moving Christmas show with theater, dance, and Christmas music on site or online. With an atmospheric Christmas market.
Immerse yourself in the world of Mary and Joseph, whose lives are turned upside down by an encounter with an angel. Through all the ups and downs of the biblical Christmas story, Mary and Joseph experience first-hand that God is with them and delivers them from hopeless situations and loneliness.
Live in Zürich
Saturday 09 December 2023, 7:30 pm
Sunday 10 December 2023 11:30 am K,E,P,R / 3 pm E,R / 7pm
Sunday 10th of December at 5 pm the International Celebration will take place in the Club.
K: Separate children's programme (0-7)
The Christmas show is not suitable for children under 8 years.
E: English translation
P: Tradução português
R: Перевод на русский язык
ADMISSION FREE – COLLECTION
With the proceeds, you enable people who are looking for a place in a warm family atmosphere on Christmas Eve to experience a wonderful Christmas. It also covers the costs of the Christmas show.

SEATING
Enough seats are available. Drop by spontaneously for free or secure your seat online for a fee.
Reserve a seat (optional)
CHRISTMAS MARKET
In addition to the show, the atmospheric Christmas market in the Loft on the 1st floor invites you to enjoy a cosy get-together with family and friends. The foyer, bar and Christmas market open 60 minutes before the start of each event.
GETTING THERE
We recommend that you come by public transport. The number of parking spaces is limited. Your event ticket (if purchased in advance) is also your ticket for public transport in the Zürcher Verkehrsverbund (ZVV) – for convenient and free travel to and from the Christmas Experience.
THE HALL, Hoffnigstrasse 1, 8600 Dübendorf
Plan your journey »
Online
Sunday 10 December 2023, 9:30 am / 11:30 am / 7:00 pm

Livestream auf Youtube (in German only)
Immerse yourself in the Christmas story and experience Christmas right in your living room. Spend an evening with friends, your Small Group, or family and experience how the birth of God's Son changed everything.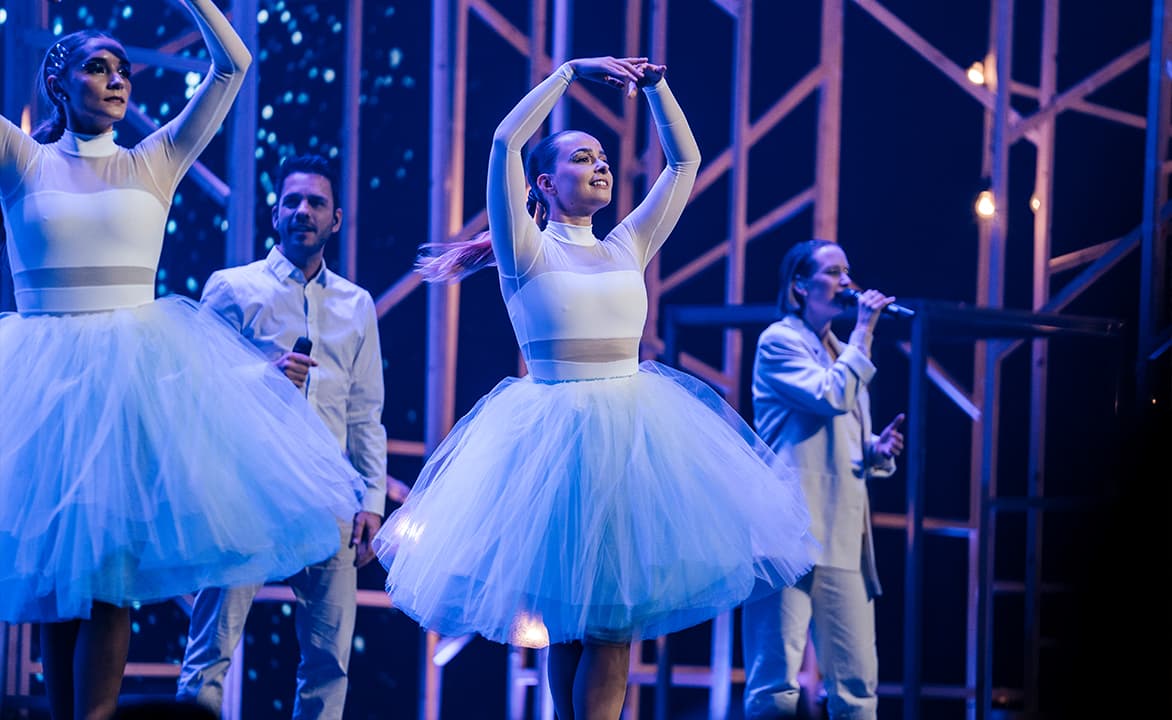 Invite your friends
Download images for your social media and to invite friends, e.g. via WhatsApp.
Download
1. – 24. Dezember

Prayer Advent Calendar
Welcoming, authentic, and practical (IN GERMAN) – with Leo und Susanna Bigger
The season of Advent and Christmas is rich in tradition and meaning. But how can we use this special time to deepen our relationship with God? Leo & Susanna invite you to explore the Prayer Advent Calendar with them and experience the power of prayer during the Christmas season. Every day from 1 to 24 December, there will be a new video on YouTube inviting you to pause and pray together. 
Telegram
Get the latest episode daily on Telegram.
24 December
CHRISTMAS PARTY AT ICF
On the evening of 24 December, we open our doors and celebrate Christmas with people who are looking for a place in a warm family atmosphere on Christmas Eve. We look forward to seeing you!


Sunday, 24 December 2023, 6:00 pm

The Hall, Hoffnigstrasse 1, 8600 Dübendorf
Would you like to be a guest?
The number of places is limited.
Would you like to help organize and support the celebration?
Register as a guest.
29 DECEMBER – 1 JANUARY

Jesus First – Young Adults & Youth Conference
Join us for the first Jesus First Conference over New Year at The Hall, Zurich. Together we will celebrate God and start the new year with Jesus. Share in Small Groups and enjoy an energetic New Year's Eve party with worship and live acts.

Learn more